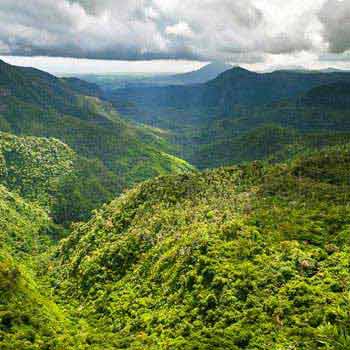 You'll be picked up from your hotel before exploring the magnificent view of Rochester fall which makes it a relaxing experience.
From there, we will head to Vortex park which is a very serene place. Afterwards, we will head to Souillac to see the astounding view of Gris-Gris & Roche qui pleure. These two places will give you a truly amazing opportunity to take great pictures.
Next, we will visit Grand Bassin sacred lake which, is the most important place of worship for Mauritian Hindus. On the way, we will visit 2 beautiful spots namely: Ti- Bassin & the South escalating point. Afterwards, we will visit Alexandra fall and Gorge viewpoint, where we will stop for a stunning panorama.
Guests will have an optional & they must choose to visit EITHER Curious Corner which is a house of illusion & mystery sure to awaken your curiosity! OR the seven colored earth & Chamarel waterfall which is one of the most famous and most visited attractions in Mauritius.
Next, We will head to Maconde to admire the panoramic view of the remarkable ocean. Afterwards, we will go to Islet Sancho which will give you a thrilling experience. Lastly, we will be heading towards Riambel Beach for Dinner(BBQ).
Meals : Dinner